Finsbury Media is a leading PPC Management Agency & Google Premier Partner with offices across the UK. We provide a tailored PPC management service to businesses of all sizes, large or small, and across a wide range of different industries. Using our own exclusive tracking platform developed in-house, we are able to deliver unrivalled results for our clients when it comes to paid advertising online. We understand that you require a PPC management agency which is transparent & will work tirelessly to improve your campaign – Well look no further! To find out more, book a free PPC consultation with our team today!
If your business needs results fast, PPC could be the answer. It is our aim to ensure that your investment is working for you from day 1, and your campaign is continuously monitored and fine tuned from thereon. If you are currently working with a PPC management agency and not happy with your results, try us out – We are confident that you'll be glad you switched! Unlike other agencies, we create results driven PPC campaigns which deliver quality leads, not just clicks & impressions. We know exactly how to leverage your paid advertising online, so for a PPC management agency that you can rely on, get in touch with us today.
Get relevant traffic to your website from people who are looking for your services or products
Increase customer calls by linking the call you receive to a keyword. This valuable data will allow you to bid higher on keywords that deliver calls vs the ones that just deliver clicks
INCREASE WEBSITE LEADS & SALES
Get more online conversions including form submits and checkout purchases
With our advanced platform you can track your entire Return On Investment.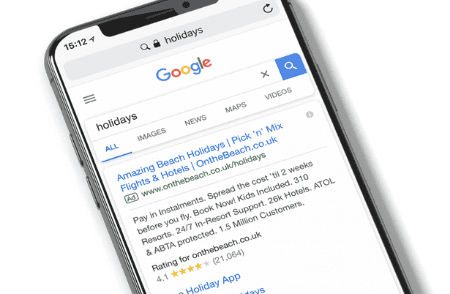 PPC (Pay Per Click) advertising is an extremely effective & highly targeted way to promote your business & generate leads online. Search engines such as Google & Bing, as well as social media platforms such as Facebook, give you the opportunity to place adverts in front of your target audience, inviting them to click through to your site.
As the name suggests, you only pay when a user clicks on your ad, and you can control how much you pay for each click, as well as your total budget for a campaign. Within just minutes of launching a campaign, your advert can be live and in front of a customer searching for your services. It is easy to see why PPC is such a popular digital marketing channel.
Hiring a PPC Management Agency
Running a successful PPC campaign which maximises every penny of your budget requires time, resources and specialist expertise. If you don't have these in-house, it might be best to hire a PPC management agency to manage your campaign for you. We have experience working on countless campaigns across multiple different industries, with a very high success rate, which puts us in an excellent position to manage your paid advertising for you. If you choose to work with Finsbury Media as your PPC management agency, we will work together with you to grow your business online. Whether you already have a campaign set up and want to improve performance, or you are just starting out, we can help you every step of the way.
PPC MANAGMENT
Make your PPC budget work harder in 2022 by using a Premiere Google Partner Agency.
How Our Tech Can Boost Your PPC Campaign
With over 5 years of development, our unique CLO (Conversion Linked Optimisation) technology and reporting platform sets us apart from the competition. We collect data to maximise results for your campaign and provide a detailed report which is available for you to view 24/7. As a client you'll be provided with login details to your own dashboard, where you can listen to call recordings, verify leads and calculate profitability. Our technology means that we can optimise campaigns based on conversions, not just clicks.
The platform enables us to focus spend on the most profitable keywords and channels, resulting in a better ROI and ultimately more profits for our clients. We can identify which keywords are making your phone ring or resulting in sales for your company. At Finsbury Media we pride ourselves on using cutting edge technology to provide unsurpassed insight and analysis. Want to learn more or try it out for yourself? Get in touch with our team today to book a free demo of our exclusive platform.
We not only have the best technology, but we believe we have the best PPC team available too! To maintain our position as a Google Premier Partner PPC management agency, our staff are regularly trained to high industry standards. We continuously improve our practices and hire some of the most talented individuals. If you want to work with an award winning PPC management agency with proven results, call us today. We can provide a tailored campaign to meet your budget and your marketing goals.