Beating the competition is the name of the game in SEO, and luckily, Finsbury Media Marketing & Web Design has a great track record for doing just that.
In fact, why don't you think back to when you first found us. How did it happen? Most likely, you searched something like 'Dallas SEO' or 'SEO company Dallas' or even 'Dallas digital marketing agency'.
Do you know what all of those SERPs have in common? Us.And we made it to those top spots because we are good at beating the competition. And now we'll tell you exactly how we do it.
Look for Longtail Keywords to Target
Though individual keywords still have some place in SEO, it is becoming rarer and rarer for online users to search single words. When is the last time you searched 'restaurant'? Probably not recently.
So, why are you targeting individual words or short-tail keywords? Instead, search for something that is more meaningful for your business as well as something your ideal consumers are actually searching.
Instead of 'restaurant' try 'tacos in Dallas' or 'Mexican food near me' or 'best tacos in Dallas near me'. These are all things the Finsbury Media team knows people are searching for on a daily basis (mainly, because those are the things we are searching for on a daily basis).
Focus on Your Content
Running right off of #1 – how do you target longtail keywords? Easy, with stellar content.
Google has grown up and learned, meaning it is very hard to trick Google now. So, instead of shady black-hat SEO, do it right – by writing!
Create content that Google and your customers will love, content that has voice, humor, and is informative and comprehensive – dependent on your industry. If you want to be known as the top of your field, then you need to be putting out fresh, valuable content regularly.
This could be blogs, social media, lead magnets, or simply updating your page and the copy on your site frequently.
Read SEO News (& Know About Algorithm Updates)
If you want to beat your competition it will not happen by accident, and that means you need to work hard to be better, to know more, and to implement the things you learn accurately.
You cannot rely on 'what's always worked', instead, be innovative, be creative, and for goodness sake – keep up with the updates, news, and what experts are saying.
The Finsbury Media team (while experts in our own right) still spends hours every week on training, research, and learning new techniques. Because if you want to be the best, you have to always keep climbing.
Watch Your Competition's Backlinks
Backlinks are still incredibly important in SEO and if your competition is gaining backlinks from credible sources – then you can too.
If your online arch-enemy gains a great backlink for their content, or from a guest post, etc, then reach out to that same company for a backlink of your own. Most likely they'll say yes – after all, they already gave a backlink to another, similar company in your field.
However, if they say no, you need to figure out why. What is the reason that the company who linked to your competition wouldn't link to you? Do you have thin or cheap content? Less value? Lower domain authority?
Make sure you aren't just asking for a backlink with nothing in return, but instead, offer their readers or customers something of value from the content you want them to link to.
Watch Their SEO Strategy
Just as you should watch your competitions backlinks, watch their SEO strategy as well. Are they blogging? How often? Posting on social media? How are their engagement numbers? Can you see any jumps or dips when you put their URL into your SEO comparison software?
You can actually use tools to reverse engineer your competition's SEO strategy, and then see where it might be weaker (or stronger) than your own.
Nothing out there says you have to only learn from SEO gurus like Neil Patel or Brian Dean – you can also learn from your enemies.
Fix Your Errors & Warnings (Every Week)
If you are using an SEO tool like SEMRush, then you will be alerted when your website has any warnings, errors, or misdirects. These can be easy to ignore, or to put off until you have the time to fix them, especially if they aren't dire – like a warning instead of a full-blown error.
But make no mistake that warnings are noticed, and errors are indexed. Don't let small things like unresolved broken links, duplicate meta-descriptions or site speed drop you below your competition.
Utilize the awesome SEO tools you have at your disposal and take the time to fix small leaks before they cause your website's roof to cave in.
Remember, an ounce of prevention is worth a metric ton of cure – or something like that.
Google My Business IS Your Business
GMB, or Google My Business, is a larger deal than you might think. Don't know if you have it set up? Then simply search your business' legal name. Is there a box with your information to the right on the SERP?
See our example below: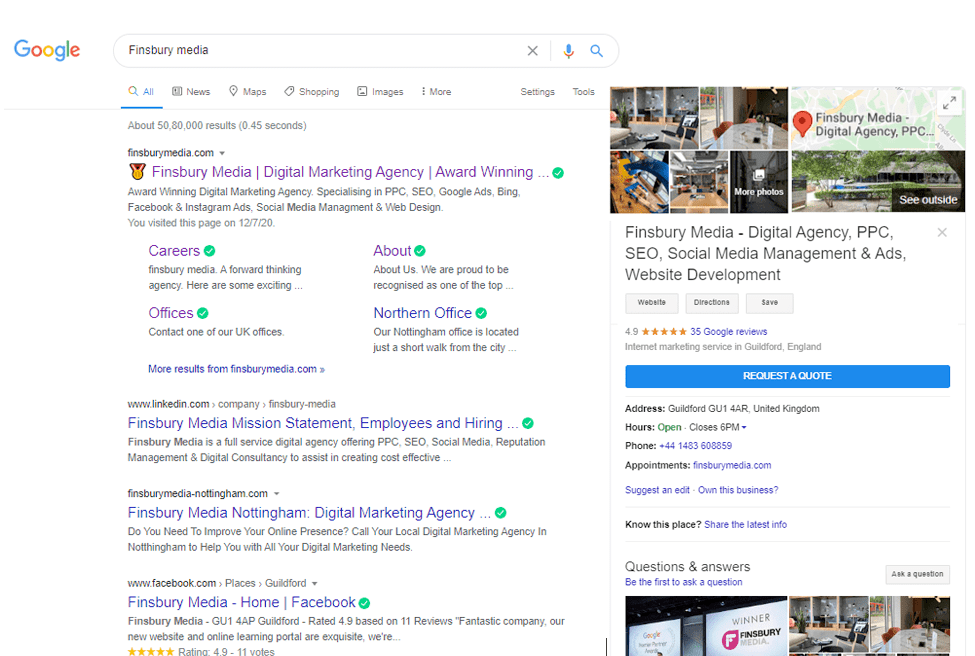 That box to the right with our picture, location, hours, phone number, reviews and more is our Google My Business, and it is important.
It isn't enough to just have your analytics set up by your SEO or digital marketing company. The truth is, if your GMB isn't set up, updated regularly, and healthy, then you are missing out and (most likely) getting beat by your competition, instead of the other way around.
Need SEO help? You aren't alone! Contact Finsbury Media Marketing & Web Design for SEO, Digital Marketing, Web Design, & so much more. If we can beat our SEO & Digital Marketing competition in a pool as saturated as Dallas & Fort Worth, then just imagine what we can do for your business!