The importance of maintaining a good online reputation is important for all businesses. Not only does it provide social proof, it could be the difference between a customer deciding to do business with you or going with a local competitor down the road.
Did you know that 91% of consumers read online reviews when searching for local businesses?
This statistic alone should be enough to convince you that it's worth including online reviews as part of your overall SEO campaign.
Benefits of online reviews
It might sound simple, but having positive online reviews makes people more likely to use your business. According to an annual study conducted by BrightLocal, 84% of people trust online reviews as much as a personal recommendation from a friend.
So, let's dive a little bit deeper into the reasons why you should pay attention to online reviews.
Improve your SEO ranking with Google Reviews
Online reviews can help your business stand out from the crowd, as they often show up beside listings in the search results. It has also been shown in several studies that having positive reviews can improve where your business ranks in SERPS (search engine results pages).
In an annual survey of local SEO experts , Moz found online reviews contribute up to 13% of Google's local search ranking factors. The pie chart below breaks down the most important ranking factors for both local pack and localised organic rankings.
Local Pack vs Local Organic Ranking
Local Pack ranking refers to the three featured listings at the top of Google's search results, whereas local organic ranking refers to the top ten organic search results displayed on page one.
Rank and Average Review Rating and Quantity
In a study for the hotel industry, Digital Marketing Works also found a strong correlation between rank and average review rating and quantity. The agency studied around 4500 search results for hotels in 47 US cities. Unsurprisingly, they found that Google gives preference to hotels closest to the city centre.
However, in addition to factors such as physical location, hotels also ranked higher based on the volume and quality of reviews, concluding that Google reviews are the most important variable when it comes to inclusion and ranking for SEO.
In addition to Google My Business (GMB) reviews, Google is now showing third party review summaries within the Local Knowledge Panel which indicates that they are placing more value towards Google reviews, boosting SEO.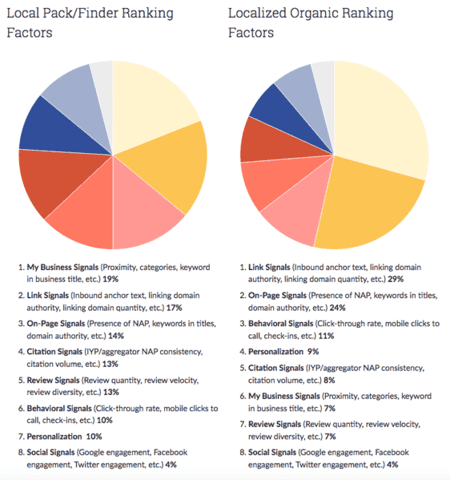 Influence buying decisions
Positive Google reviews can also help to improve conversion rates, benefitting SEO, which helps to increase sales and customer enquiries. A study by Bright Local found 90% of customers believed that positive Google reviews had influenced their buying decisions in the past, benefitting SEO.
The study also found that 90% of consumers read just 10 reviews or less before they form an opinion about a business and 68% of consumers will read just one to six reviews before deciding to trust a business. Interestingly, even if online users don't read the entire reviews, the average star rating is the most important factor that customers look at when judging a local business.
The graph below shows the importance of achieving a high star rating through positive Google reviews, helping SEO.
How to encourage customers to leave a Google review to boost your SEO ranking
First things first. Make sure you have claimed your GMB listing and ensure it's filled out. If you need help setting this up check out this guide here.
The next step is to ensure that you have at least 5 positive reviews on your GMB listing.
According to BrightLocal, 7 out of 10 customers will leave a review for a business if asked. As a business, it is important to have a system in place which makes it easy for customers to leave a review.
It could be as simple as sending out an email thanking customers for their business and asking them to leave a review. Make sure to include a link which takes customers directly to the page where you want them to leave the review, otherwise chances are they won't.
The more positive reviews you get, the more trustworthy your business will appear to future customers. To maximise the benefits of this strategy, it is important to respond to customers who take the time to leave a review. This shows customers that you value and appreciate their feedback and encourage others to leave a review.