It's time to celebrate the new social media champions that have risen out of the ashes of last year and solidified their position in 2020.
These notable eCommerce brands have taught us that the game's always changing. You need to keep up, whether you've been on social for years or you're just starting your account. If these profiles are anything to go by, you need dedication, a carefully curated digital strategy, and heaps of creativity.
Here's how the pros did it.
Nike: Nothing Beats A Londoner
Nike is a brand that needs no introduction. They've sat at the #1 spot for years regarding their marketing content and with an ad like this, it's little wonder why.
Personalizing content to a Londoner is hard work. They're a diverse lot. But Nike manages to capture a whole bunch of them in a video that speaks to all walks of life. We were thoroughly impressed by this incredible piece of writing and filming that captured hilarious snippets of London life, supported with cameos of athletes, celebrities and everyday (amazing) Londoners.
Here we see how creativity and market research helped Nike create a masterpiece, keeping them more relevant than ever before.
Gucci: Millennial Madness
A brand once consigned to Italian nonnos with plenty of coin, for the longest time this dusty relic stood on the fringes of youth culture, deemed a mature label on par with LV or Chanel.
That all changed in 2016 when the brand began partnering with influencers and creatives who had cult followings in their own disciplines, all of whom were employed to breathe new life into the brand. What followed was a monumental shift in just four years that has made Gucci one of the most popular brands amongst millennial youth than any other. Their social accounts began to incorporate baby-faced models and their apparel started to incorporate more experimental detailing (i.e. sequins and cartoon illustrations) which blew up amongst youngsters.
Pair that with promotional material showcasing memes, iconic Gen Z'ers such as Billie Eilish (and of course trap rappers like Lil Pump who penned the "Gucci Gang" tune) and BOOM: instant street cred amongst the youth. The brand was willing to change and in turn, created a new sort of relevance that has set them apart and above most high-end fashion houses.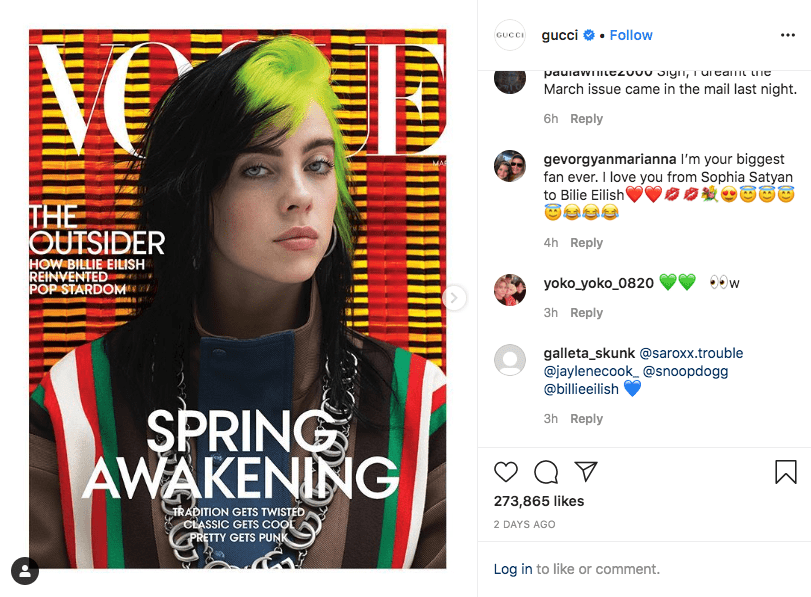 high end fashion
Veja: It's Just Friday
Duchess of Sussex
The fact that the Duchess of Sussex wore their shoes would already be enough. People flooded Veja stores worldwide to get a pair of shoes fit for (vegan) royalty. Now that's influencer marketing at its finest. However, rather than riding the profit wave and milking it further, Veja stuck to their guns when they sent out a Black Friday post that showed that they were still very much a brand focused on sustainability and not mindless consumerism.
That year, they told social media followers that they wouldn't take part in the annual Black Friday sale. Instead, they would continue to produce shoes to be worn for a lifetime and not add to a culture that fails to value the planet with its retail dollar.
This clever move may have lost them some potential profit at the time, but it no doubts solidified the longevity of their business, something a lot of businesses fail to project for. See the message for yourself.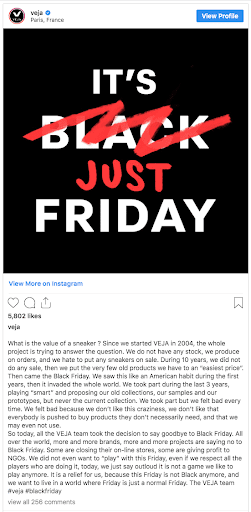 black friday
Patagonia: For A Better Planet
Boasting high engagement and an extremely active user base, Patagonia has set a new precedent for sports apparel brands the world over. Its content offering largely focuses on user-generated content, which assists its engagement strategy (obviously).
However, its greatest success factor is encouraging user participation through dedication to environmental initiatives. Sales are a secondary focus.
Patagonia's social channels exhibit this same spirit, having recently launched its own social activism app. This app informs people about local causes in the hopes of uniting special interest groups to take action against environmental injustice.
By permeating this sense of community empowerment through all its channels, Patagonia stays relevant.
Check out how the Patagonia app makes a huge difference amongst grassroots activists:
Join the Impressive social ranks
These companies may have bigger budgets than most, but their success isn't solely attributed to their finances. They've carefully researched their markets to create social media content that has kept their audiences engaged and their businesses relevant. If you're keen to find out what you can do to reinvigorate your brand with your target audience, get in touch.
Our team of content and social strategists will look at the data and determine your best course of action, helping your social campaigns succeed and your business thrives, no matter your ambitions.