How to Find a Profitable Niche in Affiliate Marketing
Affiliate marketing currently exceeds $7 billion and is about to reach over $8 billion in spending. The majority of companies dabble with PPC affiliates to some capacity. Much of this comes from the power of word-of-mouth advertising.
With affiliate programs becoming more popular, it can be challenging to find a good place to start. So if you want to find a profitable niche, we've got the ultimate guide you can use to find a niche that works for you.
What is Affiliate Marketing and How Does it Work?
Affiliate marketing is what happens when you earn a commission for promoting another's products or services. Payouts typically happen if a prospective buyer clicks on a link from an affiliate website.
Alternatively, you could potentially find a PPC affiliate program. PPC, or Pay Per Click, receives payments per click instead of expecting a conversion (sale).
What Makes a Niche Profitable?
In a perfect world, affiliate links would always lead to a payout. However, you'll find that there are some niches better than others.
The most profitable starting niches hit the following requirements:
Low competition – A beginner affiliate cannot compete with more significant competition. Pick your niche based on the number of affiliate sites already there.
More sales – If your niche isn't known to make any sales, you won't receive any payouts. Be sure your niche gets a good deal of attention.
Growth potential – Your niche should have the potential to expand. For example, if you create a website about meat smokers, you could include grills as your site grows.
High commissions – If your niche has high commissions, you won't need to worry about making more conversions. Try and stick with niches that payout above-average rates.
Finding the right combination of what's above is tricky, so you'll want to check for all four of these factors during all of your research steps.
A successful affiliate is someone who works towards creating an autonomous website. It starts with finding a good niche but leads to creating an engaging website with a specific purpose.
Below, we will detail the options you can take to find a profitable niche.
How To Find a Profitable Niche
All good niches start with detailed research. You can research the following ways:
1. Use Social Media Platforms
The power of social media is apparent. About 73% of marketers believe social media marketing has been somewhat or very successful for their company. Social media provides you with a plethora of ways to find trending topics.
Many of those trending topics are sorted by different categories. For example, Twitter now offers you a way to subscribe to specific topics. This tool can be handy for those who want to stay connected in their target niche.
Pinterest provides a more visual method of finding potential affiliate products. By creating boards that target areas of interest for your niche, Pinterest automatically finds new targets for you.
Facebook can also be beneficial when finding your people. There are numerous affiliate marketing groups you can find on Facebook to provide you with tips and tricks.
If you want to start an Affiliate PPC business, you'll find that a great way to find your niche is to start getting out there on social media.
If you use the Amazon affiliate program, you'll also find that there are forums available. Check out the Associate's Discussion Board for tips and tricks from those already members of this area. Or if you are looking for more information on successful affiliate marketing you can read here.
2. Use Google Adwords Keyword Planner for Monthly Searches
With a general knowledge background, you can move on and get to what's important: the data. Google Adwords is essential for finding all four of our crucial points above.
Here's a quick breakdown of those points and how they apply to the planner:
More sales – The Google Adwords Keyword Planner enables you to see the average monthly searches for any target search query you want. The average monthly search for anything will tell you about potential sales and popularity.
Low competition – Google Adwords lets you see the cost of bidding for particular search terms and how challenging it is to rank for those keywords.
Growth potential – Check out the historical data of everything on this list to see about growth potential. If you see upward trends, there is strong growth potential.
High commissions – The higher your CPC (Cost Per Click) is, the more money advertisers are making off of it. This information is a good sign you can earn substantial solid commissions.
Data is critical when finding working niches as an affiliate marketer. As a PPC affiliate, you must make data checkups a regular part of your process.
A Google Ads tool is handy, but that isn't the only tool you can get from Google.
3. Use Google Trends
Google Trends enables you to see more historical data on any of your chosen search terms. It is beneficial to see breakout trends with short lifespans. You'll want to avoid those short trends.
As an affiliate marketing specialist, your focus should be on using search engines to your advantage. You'll find that the best way to establish this long-term is to create evergreen content.
Evergreen content is content that never goes out of date. This content is essential when establishing your website, but evergreen Google information refers to searches that never go out of date.
For example, let's say you want to produce affiliate content associated with Dancing With the Stars' 2021 season. Because this topic delves into a specific time frame, it isn't evergreen.
Instead, evergreen search topics could include how to perform specific dances. While the content could feasibly mention the famous show, the content delves into something more timeless and valuable.
You have more significant growth potential when you create websites and choose products that aren't time-sensitive. As a PPC Affiliate, you already know the importance of growth potential from the earlier section.
4. Use eCommerce Analytical Tools
eCommerce, or electronic commerce, is the process of selling goods and services online. As you might expect, the popularity of eCommerce is the driving force behind any affiliate marketing program.
One of the most famous examples is the Amazon Affiliate Program. With 22% of Amazon's platform coming from referrals, the world's most customer-centric company puts a lot of stock in its affiliate program.
Amazon, like other major eCommerce platforms, has a robust supporting cast of tools. One such example, the AMZScout tools, can help you out. Of course, using this tool requires an explained process to find Amazon trends, but it isn't too challenging.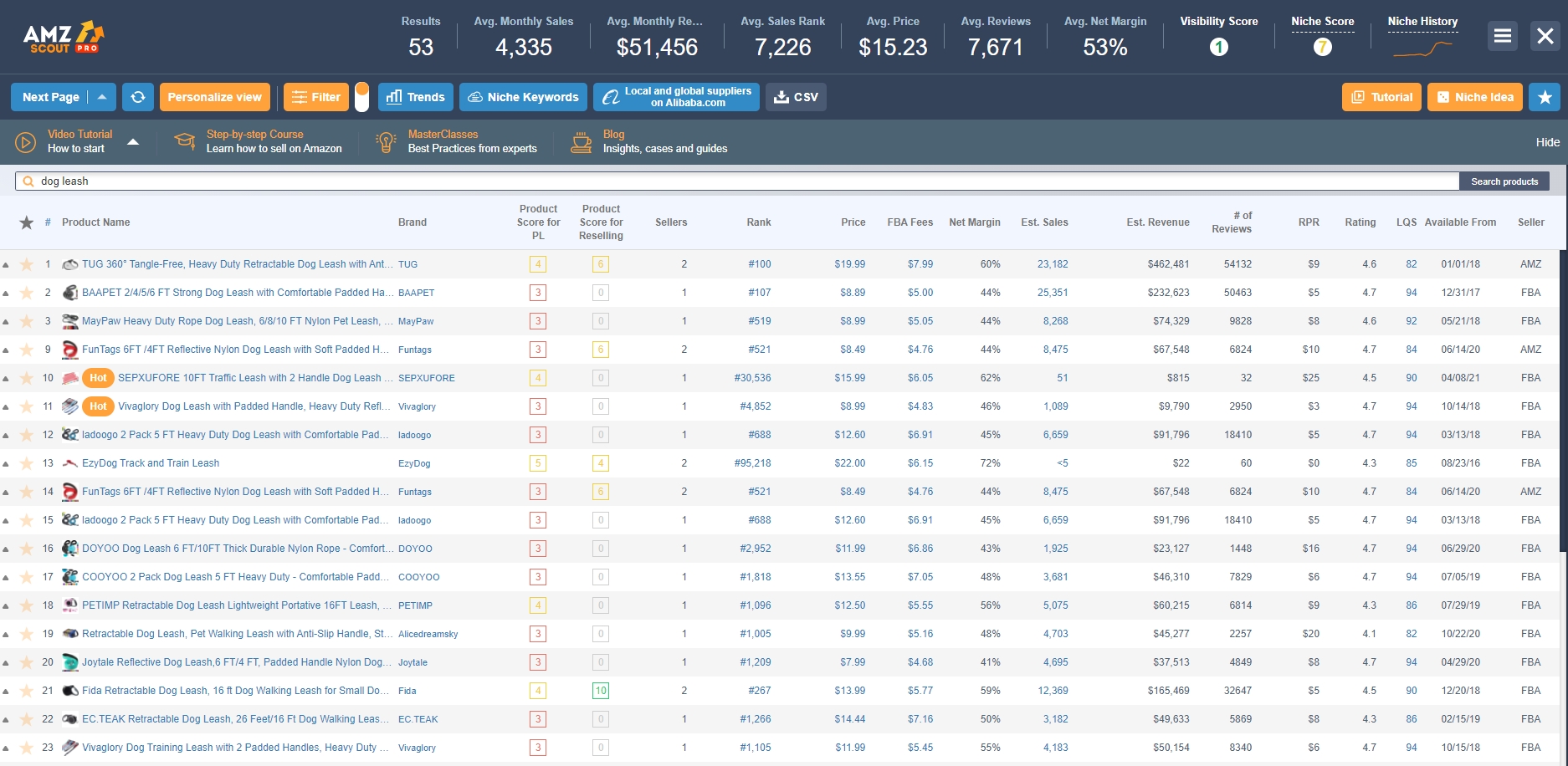 These tools can provide sales history, seasonal fluctuation information, PPC cost, and other essential data. If you use the same tools that sellers use to find out what products work to sell, you know you get the same data they do.
It is essential to try out a bunch of different tools until something works. You might find it helpful to create an Amazon Seller account, as any individual can do that.
To create an Amazon Seller account, you'll need to provide personal information and go through a steep interview process. However, anyone who can confirm their address and identity can complete it within a few weeks.
Amazon has a lot of advertising tools with significant data. Transitioning from affiliate to seller is also one way you can expand your business.
5. Existing Affiliate Networks
If you've searched for affiliate products before, you probably already know there are a plethora of websites out there. Familiarizing yourself with them will enable you to use their data to your advantage.
Below is a shortlist of different affiliate programs from third-party websites worth checking out. All of them have data that provide you information on how profitable your target niche can be:
Clickbank – Clickbank is one of the most popular affiliate programs out there. Clickbank has paid over $4 billion in commissions for the 20 years it has been around. M/li>
Affiliaxe – Affiliaxe also has many potential niches you can target. Affiliaxe is active in 175 countries and has 10 million transactions per month.
GiddyUp – This site is perfect for affiliates with a bit more experience. GiddyUp is great for people who already have an established base.
ParterStack – This site is excellent if you are an affiliate marketer who wants to promote software. Software is an underserved niche that is a great first target.
There are way more affiliate networks you can choose out there. The point being is this: use the data from those you selected.
Clickbank, for example, includes scores that enable you to see competitiveness and popularity. Combined with data from other sources, these affiliate sites can be great at helping you find products.
Conclusion
Being a PPC affiliate or sales affiliate is a great way to make passive income. This passive income comes from the right kind of traffic on your website.
A combination of organic and paid traffic can make a difference in making you money. Choosing the right affiliate networks is also essential. We hope this article helps you start your niche-finding journey.
If you need help with your Google Ad, contact the specialists at our PPC Agency for all your marketing needs!