It's no secret that search engines are becoming increasingly intelligent and more sophisticated in the way they deliver web results. To maintain successful SEO tactics for your company and or business, it's important to keep up to date with the technology changes that alter the behaviour of searchers. One of the biggest innovations at Google in recent years is the explosion of Google voice search, an update that takes convenience to a whole other level. Over 50% of teenagers use voice search every day, and it is easy to see the advantages it provides for multitasking. What may not be immediately obvious are the consequences for SEO tactics. What kinds of changes need to be made in order keep up to date with the changing search strategies?
First, a summary of Google voice search. It was first released back in 2002, but has only become truly popular along with smartphones and tablets. Similar to Apple's Siri, it can listen to a voice command, interpret it as a search query and provide an answer from Google's database. Although it is possible to activate on a desktop computer it is most widely used on mobile devices. As a result, to take advantage of the voice search trend you need to ensure that your site is mobile friendly. (Not sure how to do that? Take a look at this post to find out more.)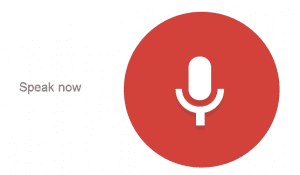 One of the most fascinating aspects of Google voice search is that it is based on machine learning and natural language progression, meaning that it is a form of artificial intelligence. Made possible by Google's Hummingbird algorithm, the technology in Google voice search is able to learn new things as more enquiries are made, and the quality of the search results can therefore change over time without any interference by human beings. As a result, Google is getting better at reasoning and interpreting queries, rather than simply matching keywords with pages in its database. Since the inception of RankBrain, Google voice search has a better understanding of search intent after sorting through so many queries. What's more, it can even understand different accents (and even different languages in the same sentence!) more clearly.
Of course, as an SEO company we're most interested in how the advent of Google voice search affects the behaviour of Google users, and how they search for things. What has become immediately clear is that people will speak far more naturally than they type, and will therefore treat their phone as a person rather than a computer. As a result, the search query is more likely to be along the lines of 'when is Star Wars showing at the Nova?' rather than 'Stars Wars times Nova'.
This post touched on the trend of long tail keywords, and they are even more applicable when it comes to voice search given that searchers will be looking for a more specific answer to a particular question. This means that searchers are moving away from keywords and that content that is put on your site needs to answer questions in a more natural way, rather than including a single or various specific keywords. This may affect the content part of your SEO tactics and will eventually act to change your website to become for more natural in its approach to SEO.
You can also anticipate that most search query will begin with a question word (who, what, when, why, where), and you may consider including this in your content if you want your site to be found for a particular query. Including good content on your site that it written in a conversational tone, so that it's a natural answer to a conversational question, will improve your site for voice searchers. Including an FAQ page is probably the simplest way to incorporate these question keywords naturally into content.
Furthermore, if you're a business that operated in particular local areas, Google voice search can really help to connect you to prospective customers in those areas. If you clearly include your specific locations within the content on your site and make it clear that you're, for example, a hairdresser in London, you're far more likely to rank for voice searches like 'hairdressers near me'.
Google voice search offers more opportunities for new SEO tactics and ways for businesses to connect to searchers. Making sites more conversational is a natural progression from short-tail keywords, and it's important to keep up to date with the machines, as they get smarter.