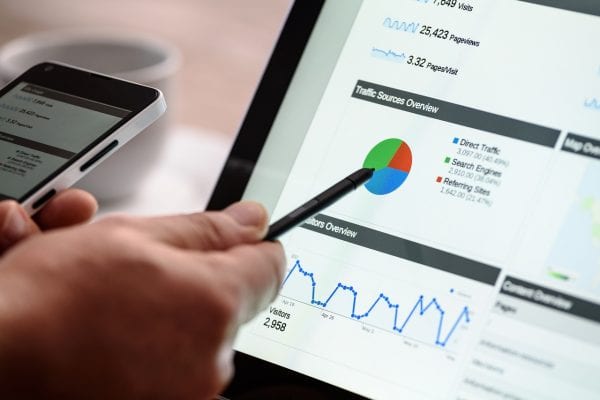 Whether you have already jumped into your new and improved marketing campaign or you are starting to think about SEO, you need a set of tools to analyse and develop your online marketing strategy. Thankfully the digital marketing tools are simple and hugely valuable when put to use in the right ways. Here are our top tips to track and advance your online marketing campaign.
GOALS
First and foremost when setting up an online SEO strategy is a clear and concise set of goals. Please, please sit down at the start and plan out your canvas, think critically and realistically. You want your goals to be set in stone: not just get more views, but how many views. Be specific. Decide whom you are targeting, where you want them to click, how long you want them on your site for and what the most important pages are for users to go to. This will give you the framework from which to start your analysis and you will be able to clearly see what's working, and what need to improve
When you know what it is you want to achieve you will be able to make the analysis of your website far simpler, so set them up. Pin them to your wall and always keep them in mind when writing, designing and analysing your website.
Start the data collection
Google, is your friend and thankfully the internet search gods have looked kindly upon your business and have given you access to a huge range of data and analysis tools that make your life a lot, lot simpler. First up, attach the Google analytics tag to your site. Head over to support.google.com and decide the best way to incorporate Google's analytics tools into your site. It's simple and easy to do just follow the steps set out by Google.
Analysis
Now the fun starts. Head over to Google Analytics, refer back to your goals and compare them with the data in front of you. In terms of SEO, the Acquisition tab is an excellent place to start, but also look into the Behavior tab, analyse the average session duration on your website, the bounce and exit rates as well as your most popular pages. Compare this data to your goals and where you want your users to navigate to on your site and compare this with conversion rate, whether that is sales or enquiries.
The simplest way to really see how well your business is doing is to compare your goals with how people are using your site as well as your conversion rate. For example, you want most people to go to your sites store page, you want them to spend about 2-3 minutes looking around your products then head to the checkout and purchase an item. Simply compare this to how people are using your site, from Google Analytics and start to address the reasons people are or aren't using the site the way you intend. Are people finding the checkout button? Is a long login process stopping people from purchasing? Is your business goal clear to the user? These factors, and many more all contribute to a positive user experience and are all incredibly important to the health and wellbeing of your site and business.
All this information can be very daunting to begin with, and it may start slowly, but remember, if you take the time to set out your goals and build your marketing strategy and website around these goals your website will grow into a sustainable business that has an interested and engaged user base.
Not sure what exit rate or Conversion rate is? Maybe you just want to know more about digital marketing. Check out our other blog posts just like this one or head over to Finsbury for more info on marketing from finsburymedia.com