What's online marketing?
Before you take advantage of all that online marketing can do for your business, make sure that you know the basics.
Difference between ads and "organic" search results
Let's say that you're advertising your products or services with Google Ads, Google's online advertising platform. When someone conducts a Google search for terms related to your business, your ad can appear on the top or bottom of the Google search results page with an ad label. Your ad's placement is primarily based on how relevant and useful it is to what the person searched for, your bid and a few other factors.
The other section of the page shows "organic" search results. These are unpaid links to websites with content related directly to what the person searched for. The more relevant the site is to the search term, the higher the link will appear in the list. Your related website could appear here, but your ad won't.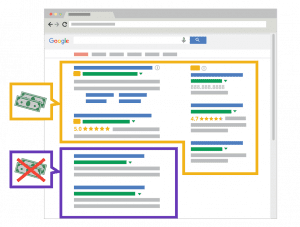 Paid vs. organic search results
Benefits of online advertising
There's a lot that's different about online advertising compared to traditional advertising like newspapers, TV ads or billboards. From the options below, choose the statement that's a true benefit of online advertising. The correct answer will reveal even more ways Google Ads can benefit your business.
Ads showing up on different devices and mediums
Advertising online can help improve where your website appears in organic (non-paid) search results
No. Running online ads has no impact on where your website appears in organic search results. Organic search results are determined by how relevant a website is to what someone searches for. The more relevant the site is to the person's search term (among other factors), the higher the link can appear in the list.
Try again to find the key benefit of online advertising.
Online advertising requires a minimum budget
Good guess, but this statement isn't true. Google Ads doesn't require a minimum budget. However, we recommend new advertisers start with an average budget of £5 to £50 per day so that your ads have more opportunities to show to potential customers.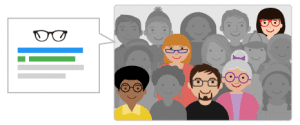 With Google Ads, you decide how much you're comfortable spending and set your budget accordingly. This makes online advertising accessible to businesses with limited advertising budgets.
Try again to find the key benefit of online advertising.
Online advertising lets you target your ads to the type of customers that you want, and filter out those you don't
That's right! When you advertise online with Google Ads, you can use different targeting methods to reach potential customers right when they're searching for your products or services. This can help make sure that you're putting your advertising pounds towards reaching only the people most likely to become your customers.
Reaching the right audience
When you advertise alongside search results on the Google Search Network, you select keywords to help target your ads to people searching for related terms. You can also choose to show your ads at certain times of day, and specify a location and language.
When you advertise on websites that show Google ads (called the Google Display Network), you can get even more specific by choosing the age of the people that you want to reach, the types of sites that they visit and their areas of interest.
Here are a few more key benefits of advertising online with Google Ads:
Control your budget
You decide how much you want to spend, and pay only when someone clicks your ad.
Budget control
Know what works

Quickly track your ad's effectiveness and easily make changes to improve results.
Picture of advertiser finding out what works
Reach more people in more places
Connect with customers no matter where they are – on their computers, tablets, mobile phones, even in apps!
Different types of ad formats
Tailor ads to your goals
Take advantage of different ad formats and features to customise your ads to your different business goals, like adding a clickable "Call" button to your ads to get more phone calls, or using video ads to showcase your brand.
You can pay to have your ad placed at the top of organic search results
Nice try, but this is incorrect. Ads on Google will only show on the top or bottom of organic search results with an ad label. Ads will never appear within the organic search results themselves.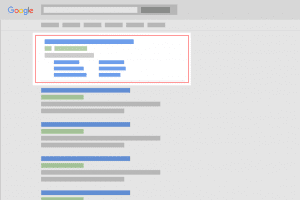 Where your ads can show up on the search network
How much you're willing to pay for your ad could impact where your ad appears in relation to other ads when a person searches for a particular term. However, your payment will have no impact on the organic search results that person's search produces.
Try again to find the key benefit of online advertising.
Feeling like you've got a handle on what online marketing is and isn't? Then let's make sure that your website is ready for the traffic that your online ads will bring.